News Source:
http://www.israelnationalnews.com
(With permission of INN staff)
By Hana Levi Julian
An Israeli entrepreneur is harnessing the sun's energy in an industrial park in the northern Negev, where he plans to refine the technology and then replicate it in California's Mojave Desert.
Arnold Goldman was a dreamer who didn't give up on his dream even when oil prices dropped and the State of California decided not to renew its incentives for clean energy producers in the 1990's.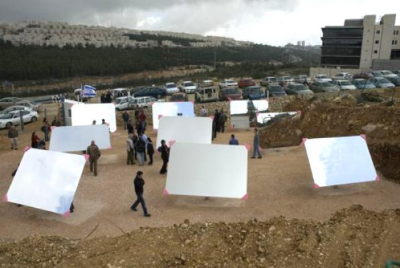 Test site of the robotic mirrors
Goldman's Luz International company which he had built in the 1980's, went bankrupt in 1991 as a result. But the dream didn't die, and the UCLA and USC-educated scientist built BrightSource Energy Inc. and
Luz II
instead.
This past April, the Israeli entrepreneur signed the largest power-buying agreement in the history of solar power with Pacific Gas & Electric.
A month later his clean-energy company raised $115 million from like-minded investors such as Google.org and BP Alternative Energy, enabling him to build the world's first solar thermal energy field at Rotem Industrial Park in the northern Negev.
Located between the southern cities of Arad and Dimona, the site is the testing ground for five larger solar fields that Goldman plans to build in California.
The field of 1,640 robotic mirrors, called heliostats, looks a little like a mechanical rock concert in action when the sun rises in the morning.
Each mirror is slightly larger than a ping pong table and is controlled by a computer; the tables turn toward the sun as it moves through the sky. The mirrors focus the sun's rays on the point of a 200-foot tower where a water boiler is to produce high-pressure steam.
The system is designed to produce up to 900 megawatts of clean, renewable energy for the State of California in the next decade, enough to power 540,000 homes per year.
_________________

Grace to you and peace from God our Father and the LORD Jesus Christ. (Philemon 1:3)
Administrator




Mood

:






Number of posts

: 2778


Age

: 47


Location

: The Kingdom of Heavenly Father


Profession

: Consultant


Hobbies

: Long drives, Gospel music, Bible study


Marital Status

: Married


Registration date :

2007-06-25


Points :

21808


Reputation :

42


Country

:



Warning

:



That is an important invention!

It is about time for us to learn how to harness the sun's energy to help curb the cost of electricity. I am glad that the person who invented this, is Jewish. PRAISE THE LORD!

Christian Talk Moderators




Mood

:






Number of posts

: 227


Age

: 56


Location

: USA


Profession

: Admin of 2 forums, Children's Church Ministry


Hobbies

: The BIBLE and the STUDY which I apply to life.


Marital Status

: Married


Registration date :

2008-03-21


Points :

18730


Reputation :

4


Country

:



Warning

:




---
Permissions in this forum:
You
cannot
reply to topics in this forum