Uploaded with permission from
Israel National News
Report By: Gil Ronen

The bodies of Chabad-Lubavitch emissary, Rabbi Gavriel Holtzberg, and kashrus inspector Aryeh Leibish Teitelbaum, were found in the Mumbai Chabad House library, with holy books in front of them. According to ZAKA emergency service, the body of the Rabbi's wife Rivka was found covered with a tallit (Jewish prayer shawl), which her husband had managed to cover her with.
The bodies of the two other women who were killed along with Rivka Holtzberg were found tied with telephone cables. The women had apparently been bound before they were killed.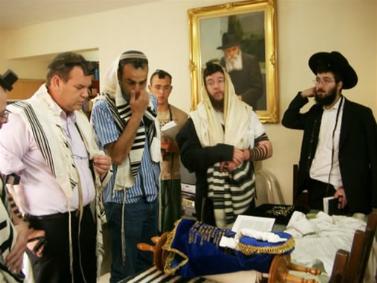 Rabbi Holzberg in Mumbai (2nd from right)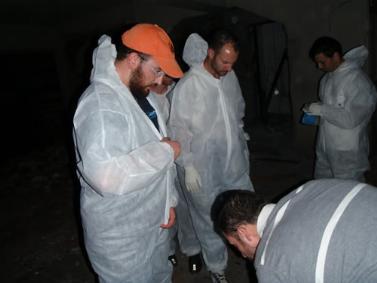 ZAKA volunteers in Mumbai Chabad HouseZAKA prevent autopsies
"After security forces completed the takeover of the Chabad House, ZAKA volunteers undertook the task of locating and extricating the bodies of the missing," ZAKA announced. "Six bodies were located and extricated during the course of the Sabbath. The operation was undertaken among the ruins despite risk of life, and the danger from exposed grenades," the hareidi-run group said.
ZAKA emissaries reportedly struggled through the Sabbath to prevent the bodies of the Jewish victims from being taken by local authorities for autopsies.
The sole terrorist who survived the Mumbai attacks told police that the attack on Chabad House was part of the squads' original plan. The terrorists planned to take hostages from the hotels and Chabad House and then use them to bargain for safe passage out of Mumbai, according to the Times of India.
Israeli pathologist being sent
Israeli officials said Saturday night that it appeared that Rabbi Holtzberg and his wife Rivka were killed during the first hours of the takeover of Beit Chabad by terrorists.
Voice of Israel Radio reported that nine bodies were found in Mumbai's Chabad House, and apparently seven were Israeli. Three have not yet been identified. Israel is sending a forensic pathology specialist to Mumbai to assist in the identification.
'Bring Our Mumbai Martyrs Home'
By: Hana Levi Julian
Foreign Ministry officials say the bodies of Rabbi Gavriel and Rebetzen Rivka Holtzberg are not being delayed at this point by anything other than typical flight scheduling problems. "A plane already left Mumbai today," said spokesman Yossi Levi. "We are not sure it will be possible to arrange for another one later in the day. We are trying, but we will see."
The families of the Holtzbergs had requested that Indian and Israeli authorities expedite the return of their loved ones' bodies so they may be buried promptly in accordance with Jewish law.
Both were savagely murdered last week by Islamist terrorists along with six other Jews in the Chabad House they ran in Mumbai, India.
The attack, part of a multi-site massacre that targeted 10 different sites in the city, left at least 174 dead and more than 300 wounded, including at least eight Jews, six of whom were Israelis. Four Israelis still remain unaccounted for, according to Foreign Ministry spokesman Yossi Levi.
Rabbi Yitzchak David Grossman, Rivka's uncle, spoke with Foreign Minister Tzipi Livni, asking her to take action to ensure a speedy return of his niece's body and that of her husband, as well as those of the others who were murdered. "Our family requests that you do not wait," he said. "The plane should return with the bodies of the martyrs immediately."
Rivka's parents, Rabbi Shimon and Rebetzin Yehudit Rosenberg, are both currently in India with their small grandson, Moshe Tzvi, who was rescued from the pogrom by his nanny, Sandra Samuel.
"We Jews believe that it is forbidden to delay a funeral," the Rosenbergs explained to media in India. "We ask that they be brought to burial in Israel immediately.
Amidst the Preparations, Moshe Tzvi Needs His Nanny
While preparations and travel plans are being debated and made, two-year-old Moshe Tzvi wants only his nanny.
The toddler responds only to the Indian babysitter in whose arms he escaped the shattering bloodbath and bullets that transformed his world last week. "In the evening his mother always puts him to sleep and now he doesn't understand what's going on," explained Samuel to reporters. "It was terrible, there were explosions everywhere, gunfire… they tried to shoot me."
Traumatized and bereft of his mother and father, Moshe is unwilling to be separated from the only person left with whom he has a connection to his former life.
His grandparents and the rest of his family agree, as does the Chassidic movement his parents represented in Mumbai when their Nariman Chabad House was attacked by Islamist terrorists.
Chabad-Lubavitch spokesman Rabbi Menachem Brod said in a statement that the grandparents on both sides feel that Moshe Tzvi's nanny should be allowed to accompany him back to Israel. "But there is paperwork to arrange," he pointed out. "We ask the government to work towards bringing her here."
The Foreign Ministry told Israel National News that it was preparing its response to the question of whether the nanny would be allowed to come to Israel and would have an answer shortly.
_________________

Grace to you and peace from God our Father and the LORD Jesus Christ. (Philemon 1:3)
Administrator




Mood

:






Number of posts

: 2778


Age

: 47


Location

: The Kingdom of Heavenly Father


Profession

: Consultant


Hobbies

: Long drives, Gospel music, Bible study


Marital Status

: Married


Registration date :

2007-06-25


Points :

21788


Reputation :

42


Country

:



Warning

:




---
Permissions in this forum:
You
cannot
reply to topics in this forum