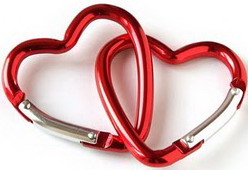 On February 14, people send cards and gifts to their beloveds to show their love. However, originally it did not start this way. This day is celebrated all over the world irrespective of the faith one may believe in.
History tells us that this day is associated with St. Valentine and it may be surprising to many that St. Valentine was a Roman Christian who was martyred during the persecution of Christians in the third century by Emperor Claudius II. The only thing certain about the day we remember as St. Valentine's Day is that it commemorates a martyrdom. Claudius II declared all Christians illegal citizens. According to Claudius II, Christians were guilty of treason because Roman citizens were required by law to worship the Emperor by declaring publicly, "Caesar is Lord!".
Prior to Valentine's death Valentine continued to minister in prison by witnessing to his prison guards. One of the guards was a good man who had adopted a blind girl. He asked Valentine if his God could help his daughter. Valentine prayed and the girl was given her sight. The guard and his whole family, 46 people, believed in Jesus and were baptized. When the Emperor heard about this he was furious that Valentine was still making converts even in prison, so he sentenced Valentine to death.
Valentine prayed with the girl and God blessed her and restored her sight. The news of this miracle spread quickly and when Claudius came to know that Valentine was still preaching the Word of God, he gave order to behead Valentine.
Just before being led out to his execution, the young Christian wrote a note to the jailer's daughter, signing it, "From your Valentine." The first valentine was really a Christian witness. Growing out of this story we participate in a custom of sending cards to people we love.
_________________

Grace to you and peace from God our Father and the LORD Jesus Christ. (Philemon 1:3)
Administrator




Mood

:






Number of posts

: 2778


Age

: 47


Location

: The Kingdom of Heavenly Father


Profession

: Consultant


Hobbies

: Long drives, Gospel music, Bible study


Marital Status

: Married


Registration date :

2007-06-25


Points :

21813


Reputation :

42


Country

:



Warning

:




---
Permissions in this forum:
You
cannot
reply to topics in this forum