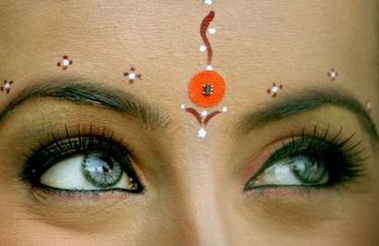 Many women these days wear
bindi, tikka or tilak
on their forehead as a fashion. What they do not know that satan has deceived them in worshiping hindu gods. According to "Dot your eye," Snopes.com, at:
http://www.snopes2.com/
The colored dot is variously referred to as a "tilaka," "bottu," "bindiya," "kumkum," or "bindi." It is a sign of piety, and a reveals to other people that the wearer is a Hindu. It symbolizes the third eye -- the one focused inwards toward God. Both men and women wear it, although the practice among men is gradually going out of style. In the past, many unmarried women wore black marks, whereas many married women wore red. But in recent times, women often wear dots that match the color of their saris.
"Bindi" is derived from the Sanskrit word "Bindu" or a "Drop". It is usually a red dot made with vermilion powder which is worn by women between their eyebrows on their forehead. In the subsequent paragraphs the word "bindi" may be substituted by "Sindoor", or "Tilak", or "Tikka", or "Kumkum".
The "bindi" is supposed to signify the mystic third eye of a person and therefore, when properly marked, becomes the central point of the base of the creation itself. It is a symbol of auspiciousness, good fortune and festivity. It denotes the woman's married status in most of the North Indian communities but in South India any woman may wear a bindi.
Some historical notes suggest that the origin of this practice came from ancient wedding rituals whereby the husband would mark a dot on the forehead of his new bride with his own blood as a mark of ownership. Widows who follow this custom will stop wearing bindi after the death of their husband, or change the color to indicate their change in marital status, depending on which tradition they follow.
The bindi/tilak also has as important role to play in all religious ceremonies. After every puja, the tikka is applied to all present — an elongated one for the men applied with the right thumb and a round one for women applied with the right ring finger. The main purpose behind the application of the tikka on this occasion is to constantly remind the bearers of the tilak that upholding the dharma(religion) is their foremost duty.
God is holy, righteous, and a loving Father, and He is worthy of our praise and worship. The Bible tells us in
Deuteronomy 6:5
, to "Love the LORD your God with all your heart and with all your soul and with all your strength."
_________________

Grace to you and peace from God our Father and the LORD Jesus Christ. (Philemon 1:3)
Administrator




Mood

:






Number of posts

: 2778


Age

: 47


Location

: The Kingdom of Heavenly Father


Profession

: Consultant


Hobbies

: Long drives, Gospel music, Bible study


Marital Status

: Married


Registration date :

2007-06-25


Points :

21788


Reputation :

42


Country

:



Warning

:




---
Permissions in this forum:
You
cannot
reply to topics in this forum