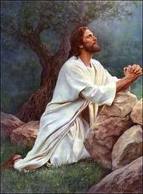 Jesus in not only our LORD and Savior but also our role-model. We must observe His life as depicted in the Gospels to live a life that is pleasing to the Heavenly Father. Let us see how the Word of God (Bible) teaches us to pray:
To Heavenly Father
And he said, "Abba, Father, all things are possible for you. Remove this cup from me. Yet not what I will, but what you will." (Mark 14:36)
For you did not receive the spirit of slavery to fall back into fear, but you have received the Spirit of adoption as sons, by whom we cry, "Abba! Father!" (Romans 8:15)
Through Son (Jesus Christ)
… there is one God, and there is one mediator between God and men, the man Christ Jesus." (1 Timothy 2:5)
By Spirit
"He [Jesus] rejoiced in the Holy Spirit and said, "I thank you, Father, Lord of heaven and earth, that you have hidden these things from the wise and understanding and revealed them to little children; yes, Father, for as such was your gracious will. All things have been handed over to me by my Father, and no one knows who the Son is except the Father, or who the Father is except the Son and anyone to whom the Son chooses to reveal him." (Luke 10:21-22)
And because you are sons, God has sent the Spirit of his Son into our hearts, crying, "Abba! Father!" (Galatians 4:6)
And in answer to Luke 11:1 where the disciples ask Jesus "Lord teach us to pray" Jesus says in Luke 11:13 If you then, who are evil, know how to give good gifts to your children, how much more will the heavenly Father give the Holy Spirit to those who ask him!"
Pray Like Jesus Taught
PRAY IN FAITH
Matthew 21:22 And whatever you ask in prayer, you will receive, if you have faith."
Mark 11:24 Therefore I tell you, whatever you ask in prayer, believe that you have received it, and it will be yours.
PRAY SUCCINCTLY
Matthew 6:6-7 But when you pray, go into your room and shut the door and pray to your Father who is in secret. And your Father who sees in secret will reward you. "And when you pray, do not heap up empty phrases as the Gentiles do, for they think that they will be heard for their many words.
Mark 12:40 who devour widows' houses and for a pretense make long prayers. They will receive the greater condemnation."
PRAY IN GOD'S WILL
John 16:23-24 In that day you will ask nothing of me. Truly, truly, I say to you, whatever you ask of the Father in my name, he will give it to you. Until now you have asked nothing in my name. Ask, and you will receive, that your joy may be full.
PRAY HUMBLY
Luke 18:8-14 He also told this parable to some who trusted in themselves that they were righteous, and treated others with contempt: "Two men went up into the temple to pray, one a Pharisee and the other a tax collector. The Pharisee, standing by himself, prayed thus: 'God, I thank you that I am not like other men, extortioners, unjust, adulterers, or even like this tax collector. I fast twice a week; I give tithes of all that I get.' But the tax collector, standing far off, would not even lift up his eyes to heaven, but beat his breast, saying, 'God, be merciful to me, a sinner!' I tell you, this man went down to his house justified, rather than the other. For everyone who exalts himself will be humbled, but the one who humbles himself will be exalted."
PRAY FERVENTLY
Luke 18:1 And he told them a parable to the effect that they ought always to pray and not lose heart.
What should we pray for?
PRAY FOR THOSE WHO SINNED AGAINST YOU
Mark 11:25 And whenever you stand praying, forgive, if you have anything against anyone, so that your Father also who is in heaven may forgive you your trespasses."
PRAY FOR YOUR NEEDS
Matthew 7:7-8 "Ask, and it will be given to you; seek, and you will find; knock, and it will be opened to you. For everyone who asks receives, and the one who seeks finds, and to the one who knocks it will be opened.
PRAY FOR EVANGELISTS & CHURCH PLANTERS
Matthew 9:37-38 Then he said to his disciples, "The harvest is plentiful, but the laborers are few; therefore pray earnestly to the Lord of the harvest to send out laborers into his harvest."
PRAY AGAINST TEMPTATION
Matthew 26:41 Watch and pray that you may not enter into temptation. The spirit indeed is willing, but the flesh is weak.
_________________

Grace to you and peace from God our Father and the LORD Jesus Christ. (Philemon 1:3)
Administrator




Mood

:






Number of posts

: 2778


Age

: 47


Location

: The Kingdom of Heavenly Father


Profession

: Consultant


Hobbies

: Long drives, Gospel music, Bible study


Marital Status

: Married


Registration date :

2007-06-25


Points :

21808


Reputation :

42


Country

:



Warning

:




---
Permissions in this forum:
You
cannot
reply to topics in this forum