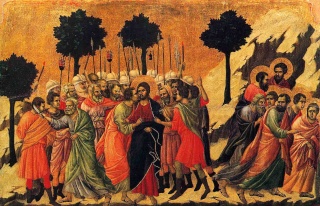 And as He was yet speaking, behold, a crowd! And the one called Judas, one of the Twelve, came in front of them and drew near to Jesus in order to kiss Him. And Jesus said to him, Judas, do you betray the Son of Man with a kiss? (Luke 22:47-48)
The question here is simple yet very challenging - If Jesus knew that Judas would betray Him then why did He choose him? The answer is simple that crucifixion of Jesus Christ was designed this way.
Challenge
Now the tricky part in this question is - Why Judas only, why not Peter, John or any other disciple?
Why Judas Iscariot?
While I was with them, I was keeping them in Thy name which Thou hast given Me; and I guarded them, and not one of them perished but the son of perdition, that the Scripture might be fulfilled. (NASB) John 17:12
Jesus plainly comments that He lost one - How? Judas was lost to his own desires. Judas' desire was money as we see his desire speak out at one occasion.
Why was this ointment not sold for three hundred denarii and given to the poor? But he said this, not that he was caring for the poor, but that he was a thief and held the moneybag and carried away the things being put in. (John 12:5-6)
Judas' passion was for money and not for Jesus Christ. This passion/lust for money is one of the tools of satan that he uses to deceive us.
Again, the Devil took Him up into a very high mountain and showed Him all the kingdoms of the world and their glory. And he said to Him, All these things I will give You if You will fall down and worship me. (Mathew 4:8-9)
Judas although selected by Jesus Himself blessed by the powers of Holy Spirit had a door opened to satan to make him fall and that was his desire for money and so Judas sold Jesus to be killed with a kiss. Judas did not lose his spiritual life; he never had it.
Even though Judas betrayed Jesus to be killed by Jews yet Jesus calls him "FRIEND". Why?
For God so loved the world that He gave His only Begotten Son, so that whosoever believes in Him shall not perish but have everlasting life. (John 3:16)
Last edited by Waqar Daniel on Fri 14 Oct 2011, 6:36 am; edited 1 time in total
_________________

Grace to you and peace from God our Father and the LORD Jesus Christ. (Philemon 1:3)
Administrator




Mood

:






Number of posts

: 2778


Age

: 47


Location

: The Kingdom of Heavenly Father


Profession

: Consultant


Hobbies

: Long drives, Gospel music, Bible study


Marital Status

: Married


Registration date :

2007-06-25


Points :

21783


Reputation :

42


Country

:



Warning

:



Christ called him friend to give him one last chance, not for (John 3:16) sake, as if to say Judas somehow shall receive no consequence. Judas was carnally minded and turned back to the world from that point on, for even after seeing them take Christ away to be crucified, he still consulted the friends of the world. Perhaps if he would have consulted Jesus, or one of the disciples, his outcome would have been different. But alas, he chose the world.
Christian Talk Member




Mood

:






Number of posts

: 13


Age

: 59


Location

: Germany


Hobbies

: Studying to rightly divide the Word of Truth


Marital Status

: Married


Registration date :

2011-01-31


Points :

13349


Reputation :

1


Country

:



Warning

:



How could Judas get one last chance? Certainly through Jesus - And how through Jesus? Under the condition of John 3:16
_________________

Grace to you and peace from God our Father and the LORD Jesus Christ. (Philemon 1:3)
Administrator




Mood

:






Number of posts

: 2778


Age

: 47


Location

: The Kingdom of Heavenly Father


Profession

: Consultant


Hobbies

: Long drives, Gospel music, Bible study


Marital Status

: Married


Registration date :

2007-06-25


Points :

21783


Reputation :

42


Country

:



Warning

:





Similar topics
---
Permissions in this forum:
You
cannot
reply to topics in this forum