Uploaded with the permission from the staff of Israel National News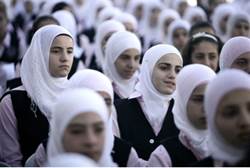 A controversial Iranian law allows men to marry their adopted daughters at the age of 13. Critics say the law 'legalizes pedophilia.'
Iran's parliament has passed a controversial law allowing men to marry their adopted daughters at the age of just 13, the British paper The Guardian reports.
Iranian law already allowed girls to marry at age 13, and boys at age 15. In addition, girls were allowed to marry at younger ages with court approval.
In 2010, at least 75 children under age 10 were married in Tehran alone, and as many as 42,000 children ages 10-14 were married across the country, The Guardian reported, citing the Iranian site Tabnak.
However, until the new law was passed, adoptive parents were not allowed to marry their adopted children, and marriage to stepchildren was also forbidden.
The law may still be shot down by Iran's Guardian Council, which has the power to reject bills for violating Islamic law (Sharia).
Human rights activists who spoke to The Guardian warned that the bill was "legalizing pedophilia."
"It's not part of the Iranian culture to marry your adopted child," said Shadi Sadr of the London-based group Justice for Iran. "You should not be able to marry your adopted children, full stop."
"With this bill, you can be a pedophile and get your bait in the pretext of adopting children," she warned.
Shiva Dolatabadi of the Iranian Society for Protecting Children's Rights had a similar warning. "You cannot open a way in which the role of a father or mother can be mixed with that of a spouse. Children can't be safe in such a family," she said.
The growing negative publicity surrounding the bill could hurt Iranian President Hassan Rouhani's reputation as a moderate.
_________________

Grace to you and peace from God our Father and the LORD Jesus Christ. (Philemon 1:3)
Administrator




Mood

:






Number of posts

: 2778


Age

: 47


Location

: The Kingdom of Heavenly Father


Profession

: Consultant


Hobbies

: Long drives, Gospel music, Bible study


Marital Status

: Married


Registration date :

2007-06-25


Points :

21798


Reputation :

42


Country

:



Warning

:



That is a messed up story. It is strange to marry a child you raised.
Christian Talk Member




Mood

:






Number of posts

: 139


Age

: 31


Location

: TN


Marital Status

: Still Looking


Registration date :

2013-05-14


Points :

9465


Reputation :

0


Country

:



Warning

:



It is strange for Christians but this law is not alien to Muslims. One of the most shocking events in the life of Muhammad, one which has been a major source of embarrassment for Muslims, is his marriage to his adopted son's former wife, Zaynab bint Jash. Zaynab had married Zayd, the freed slave of Muhammad's first wife, Khadijah, whom Muhammad adopted as his son. According to some versions of the story, Muhammad had ventured to see his adopted son, Zayd, at his house. Upon arriving, he found Zaynab unveiled and was enamored by her beauty. As he departed, Muhammad made some comments which she heard and, when her husband returned, told him what had transpired. After Zayd heard that Muhammad had made some comments about his wife's beauty, he went to his adoptive father and told him that he would divorce her so he could marry her if this is what Muhammad desired. Muhammad refused and encouraged his adopted son to remain with his wife. Subsequently, Zayd divorced his wife and Muhammad was commanded by Allah to then marry Zaynab, his adopted son's divorcee.
The Quran refers to this marriage in the following passage:
When thou saidst to him whom God had blessed and thou hadst favoured, 'Keep thy wife to thyself, and fear God,' and thou wast CONCEALING WITHIN THYSELF what God should reveal, FEARING OTHER MEN; and God has better right for thee to fear Him. So when Zaid had accomplished what he would of her, THEN WE GAVE HER IN MARRIAGE TO THEE, so that there should not be any fault in the believers, touching the wives of their adopted sons, when they have accomplished what they would of them; and God's commandment must be performed. (Koran 33:37)
Moreover, you can read hadiths,
"Why didn't you marry a young girl so that you could sport with her and she sport with you, or you could amuse with her and she could amuse with you?" Muhammad posed this question to one of his followers who had married an "older woman" instead of opting to fondle a child.
These laws are no stranger to the followers of man-made religions where their desires are met with approval from their god(s).
_________________

Grace to you and peace from God our Father and the LORD Jesus Christ. (Philemon 1:3)
Administrator




Mood

:






Number of posts

: 2778


Age

: 47


Location

: The Kingdom of Heavenly Father


Profession

: Consultant


Hobbies

: Long drives, Gospel music, Bible study


Marital Status

: Married


Registration date :

2007-06-25


Points :

21798


Reputation :

42


Country

:



Warning

:




---
Permissions in this forum:
You
cannot
reply to topics in this forum