1500 YEAR OLD BIBLE CONFIRMS THAT JESUS CHRIST WAS NOT CRUCIFIED – VATICAN IN AWE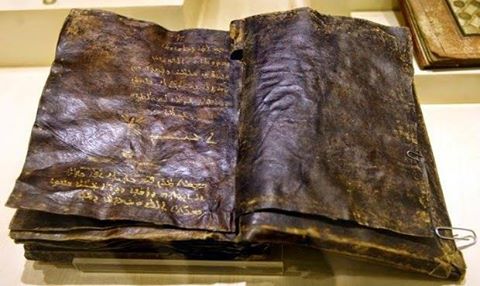 Much to the dismay of the Vatican, an approx. 1500-2000 year old bible was found in Turkey, in the Ethnography Museum of Ankara.  Discovered and kept secret in the year 2000, the book contains the Gospel of Barnabas – a disciple of Christ – which shows that Jesus was not crucified, nor was he the son of God, but a Prophet.  The book also calls Apostle Paul "The Impostor".  The book also claims that Jesus ascended to heaven alive, and that Judas Iscariot was crucified in his place.
According to reports, experts and religious authorities in Tehram insist that the book is original.  The book itself is written with gold lettering, onto loosely-tied leather in Aramaic, the language of Jesus Christ.  The text maintains a vision similar to Islam, contradicting the New Testament's teachings of Christianity.   Jesus also foresees the coming of the Prophet Muhammad, who would found Islam 700 years later.
Information Source:


Authenticity
The above news has been circulating with the picture of a seemingly old book-manuscript and most readers automatically assume that this is the 2000 year old manuscript that was discovered recently. However, the entire story is a hoax.
Here is the truth.
As we read these new items, they eventually mention that their story is about a certain "Gospel of Barnabas" and that is the clue to the whole hoax. Actually the Gospel of Barnabas is NOT a new discovery at all. Nor is it a legitimate Gospel. Actually Gospel of Barnabas is a fake gospel, produced by some forgers between 14th to 16th centuries and known to the Christian world for at least two centuries. Detailed analysis has been done by Christian as well as non Christian scholars to show that this work is a relatively recent forgery, and not a 2000 or even 1500 year old Bible.
Reference Source to Gospel of Barnabas:
http://www.answering-islam.org/Green/barnabas.htm,
"> Answering Islam
_________________

Grace to you and peace from God our Father and the LORD Jesus Christ. (Philemon 1:3)
Administrator




Mood

:






Number of posts

: 2778


Age

: 47


Location

: The Kingdom of Heavenly Father


Profession

: Consultant


Hobbies

: Long drives, Gospel music, Bible study


Marital Status

: Married


Registration date :

2007-06-25


Points :

21928


Reputation :

42


Country

:



Warning

:




---
Permissions in this forum:
You
cannot
reply to topics in this forum