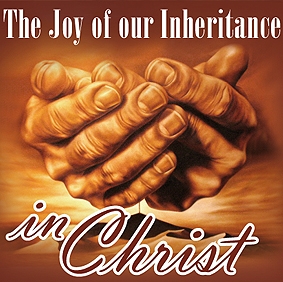 I have an inheritance in Christ
Treasury that He purchased
Enabled, made possible;
Boon brought about by
His death and resurrection
Price paid with His precious blood
Bestowing a great prize.

I shall work with my inheritance
And it shall work for me
It shall grow on me
Abound in me, increase in me
Multiply in, flow with me
Follow me, yield to me, yield in me.

I have a heavenly mandate
to leave an inheritance
for my children's children
those that have not been seen.
Thank you for the foresight
to see beyond the seen

This inheritance is in my jar of clay
It is a gem more than gold
Not given to be sold
But to be expended wisely
Invested to yield great dividend
Touching and transforming lives
Increased with disbursement
Multiplied by scattering
On good, fertile hungry soil.

Come Holy Spirit
Come and visit
Come and dwell
superabundantly
Come and unveil
Come and empower
In this critical hour
Come and refine
Show me what is mine
With your fire
Grant me godly desire
Come and hone
Come and recharge
Come sand enlarge
Come and discharge
Come and be in charge
Come dispel the mirage
Come and build character
After the Alpha and Omega
Come and bring wisdom
Divine from the Vine
Wisdom of the Kingdom
Wisdom for synergy
More than energy
One plus one becoming three
For a legacy lasting eternity.
We all have received an inheritance

Ephesians 1:11

New King James Version (NKJV)

11 In Him also we have obtained an inheritance, being predestined according to the purpose of Him who works all things according to the counsel of His will,

Giving thanks unto the Father, which hath made us meet to be partakers of the inheritance of the saints in light:Col1:12

The inheritance is a free gift- your endowment Ro12:6-8

For if the inheritance be of the law, it is no more of promise: but God gave it to Abraham by promise. Gal1:18

We have a good, enviable inheritance

New King James Version (NKJV)

6 The lines have fallen to me in pleasant places;

Yes, I have a good inheritance Psalm 16:6

It is one thing to have it, it is another see it and harness it, use it to help others

The eyes of your understanding being enlightened; that ye may know what is the hope of his calling, and what the riches of the glory of his inheritance in the saints, Eph1:18

You need foresight and faith to leave an inheritance for your children's children. .

Leave an inheritance beyond who you can see

New King James Version (NKJV)

22 A good man leaves an inheritance to his children's children,

But the wealth of the sinner is stored up for the righteous. Proverbs 13:22

Colossians 3:23-25

New King James Version (NKJV)

23 And whatever you do, do it heartily, as to the Lord and not to men, 24 knowing that from the Lord you will receive the reward of the inheritance; for[a] you serve the Lord Christ. 25 But he who does wrong will be repaid for what he has done, and there is no partiality.

Col3:23-24

Proverbs 13:22

New King James Version (NKJV)

22 A good man leaves an inheritance to his children's children,

But the wealth of the sinner is stored up for the righteous.

Psalm 47:4

New King James Version (NKJV)

You don't choose your inheritance

4 He will choose our inheritance for us,

The excellence of Jacob whom He loves. Selah

New King James Version (NKJV)

You need to marry wisdom with your inheritance to maximize its yield

11 Wisdom is good with an inheritance,

And profitable to those who see the sun.

Eccle 7:11

There is a matching inheritance waiting for those who use their earthly inheritance very well.

His lord said to him, 'Well done, good and faithful servant; you were faithful over a few things, I will make you ruler over many things. Enter into the joy of your lord.' Matt25:21

Everyone has something to offer from your SHAPE arising from your

1. Motivational endowments (Gift of the Father to His creation): perception, service, teaching, exhorting, giving, administration, compassion (Rom12:6-

or

2. Manifestation endowments (Gifts of The Holy Spirit to members to believers)

a) Power Gifts: Working of Miracles, Gift of Faith and Gift of Healing

b) Revelation Gifts: Word of wisdom, Word of knowledge and discernment of Spirit.

c) Utterance Gifts: Prophecy, Divers kinds of Tongues and interpretation of tongues.

Ministry Gifts (Gifts of Jesus to the Body of Christ. these are offices or actual people who will have some of the gifts already mentioned in varying degrees to function in their office(s).

Apostle- pioneers- missionaries

Prophets (should have revelation, utterance gifts, may be some Working of miracles

Evangelists (should have power gifts

Pastors (should have admin, teaching, compassion)

Each person has a function which determines 'SHAPE'

'Spiritual' gifts from the Father, Son or the Holy Spirit

Heart- passion

Abilities, talents

Personalities

Experiences- positive or negative

We don't choose our gift. The Holy Spirit Jesus or the Father decides.

We all have assignment- people sent to, a dream to fulfil, a world (domain or sphere to influence or impact or leave a legacy in. we need to identify that dream, assignment or world and discover, develop and deploy your gifts which will enable you to leave an eternal legacy before we are called home. It all begins with God. You must know your God, then be intimate with Him, and ask Him to reveal you to you.

Without this revelation of you to you, you can abuse yourself- use your gifts for 'uncommanded' purposes or not discover them or discover them but not sufficiently develop them as to maximize their use.

We need to know that there is also preparation time ( God's Process before the Promise) before you start your assignment and certain seemingly mundane unfulfilling task occupations can be God's training ground for what He has for us eventually. We need to have a vision and know God's timing understanding momentum and seizing the moment. David had to look after his father's sheep before god gave him a people to shepherd. The same applied t Moses, who got God's timing wrong. Eventually when God was ready, Moses gave excuses.
Last edited by fennywest on Mon 04 Jun 2012, 3:58 pm; edited 1 time in total
Christian Talk Moderators




Mood

:






Number of posts

: 1725


Age

: 64


Location

: uk


Marital Status

: Single


Registration date :

2009-10-19


Points :

18050


Reputation :

78


Country

:



Warning

:



We inherit the gift of eternal life, the gift of the Holy Spirit, friendship with God, fellowship with Christ, the wisdom of the Lord, healing, joy, peace, comfort, guidance, forgiveness and so much more.

I proudly proclaim the fellowship of Christ according to His promise, "...And, behold, I am with you all the days until the completion of the age. Amen." (Mathew 28:20)

Thank you Fenny I loved it. God bless you


_________________

Grace to you and peace from God our Father and the LORD Jesus Christ. (Philemon 1:3)
Administrator




Mood

:






Number of posts

: 2778


Age

: 47


Location

: The Kingdom of Heavenly Father


Profession

: Consultant


Hobbies

: Long drives, Gospel music, Bible study


Marital Status

: Married


Registration date :

2007-06-25


Points :

21628


Reputation :

42


Country

:



Warning

:




---
Permissions in this forum:
You
cannot
reply to topics in this forum