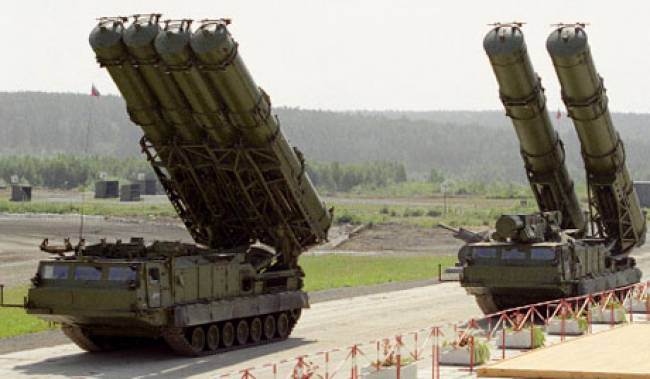 S-300 Russian Missiles
S-300 Missiles
The S-300 system was developed to defend against aircraft and cruise missiles for the Soviet Air Defence Forces. Subsequent variations were developed to intercept ballistic missiles. The S-300 is regarded as one of the most potent anti-aircraft missile systems currently fielded.[3] Its radars have the ability to simultaneously track up to 100 targets while engaging up to 12. S-300 deployment time is five minutes.[3] The S-300 missiles are sealed rounds and require no maintenance over their lifetime. An evolved version of the S-300 system is the S-400 (NATO reporting name SA-21 Growler), entering limited service in 2004.
Information Source:
Wikipedia
Uploaded with the permission from Israel National News
Russian President Vladimir Putin will offer to supply Iran with S-300 air defense missile systems, and to build a second reactor at the Bushehr nuclear plant, Russia's Kommersant business daily reported Wednesday.
Citing a source close to the Kremlin, the publication reported that Putin will renew an offer to supply Iran with five S-300 ground-to-air missile systems when he meets Iranian President Hassan Rowhani on Friday, at a summit of the Shanghai Cooperation Organization that is to be held in Kyrgyzstan.
Russia signed a contract in 2007 to supply Iran with five S-300 advanced missile batteries, which can be used against aircraft or guided missiles, at a cost of $800 million.
In 2010, Russia's then-president Dmitry Medvedev cancelled the deal, after the US and Israel applied strong pressure on him. The US and Israel worry that the S-300 would make Iran less vulnerable to attack by either one of them, and motivate Iran to develop a nuclear weapon.
The source told Kommersant that Russia's offer was conditional on Iran's withdrawing a $4 billion lawsuit that it has filed at an international court in Geneva against Russia's arms export agency, for balking on the original S-300 deal.
Kommersant wrote that Putin would offer to Iran a modified export version of the S-300 systems called S-300VM Antey-2500.
The source also said that Putin was ready to sign a deal with Iran on building a second reactor for the Bushehr nuclear plant, adding that the deal was not "particularly profitable from an economic point of view, but was rather political."
The reports of the impending deal with Iran, if true, appear to jibe with recent analyses that said that Putin has been emboldened by US President Barack Obama's weak and vaccilating policies regarding the Middle East.
Just 12 days ago, Russian news agency RIA Novosty reported that the S-300s that Russia refused to deliver to Iran have now been completely dismantled and scrapped, according to the CEO of the firm that built them.
"The equipment that was to have been delivered to Iran is no more," Almaz-Antey Corporation's CEO Vladislav Menshchikov said. "We have dismantled it completely. Some elements, which could be used, have been used. Some have been scrapped." Every contract is custom-made for a particular client and cannot be adjusted to the requirements of another, he said.
Russian daily Vedomosti said in June, citing undisclosed Russian arms industry sources, that Russia had offered to provide Iran instead with Antei-2500 air defense systems, but the offer was never officially confirmed.
Anatoly Isaikin, the head of Russia's state-run arms export monopoly Rosoboronexport, said in August that his agency had no plans to provide Iran with replacements for the S-300 missile defense systems that Russia had refused to deliver.
_________________

Grace to you and peace from God our Father and the LORD Jesus Christ. (Philemon 1:3)
Administrator




Mood

:






Number of posts

: 2778


Age

: 47


Location

: The Kingdom of Heavenly Father


Profession

: Consultant


Hobbies

: Long drives, Gospel music, Bible study


Marital Status

: Married


Registration date :

2007-06-25


Points :

21943


Reputation :

42


Country

:



Warning

:




---
Permissions in this forum:
You
cannot
reply to topics in this forum