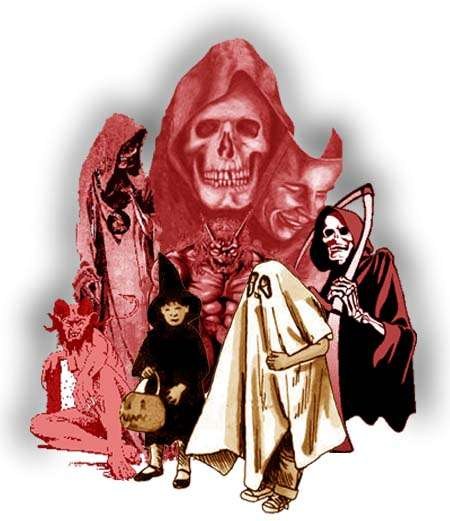 Many Christians believe that they follow LORD and Savior Jesus Christ so they cannot be deceived by Satan. However, Judas Iscariot, a disciple of Christ betrayed Jesus. Judas was deceived by satan, so how can we think we cannot be deceived by satan to betray our LORD and Savior Jesus Christ?
Our LORD and Savior Jesus Christ revealed that one of the most pervasive forms of deception is found in religious practice. And the Bible reveals who is behind many religious deceptions. Do you know who? The Apostle Paul warns the Corinthians against false ministers:
"For such are false apostles, deceitful workers, transforming themselves into apostles of Christ. And no wonder! For Satan himself transforms himself into an angel of light. Therefore it is no great thing if his ministers also transform themselves into ministers of righteousness, whose end will be according to their works" (2 Corinthians 11:13–15).
Deception 1: False Doctrine
We like to show off our wisdom by quoting logic and others, whereas, Jesus said,
"If you hold to my teaching, you are really my disciples. 32 Then you will know the truth, and the truth will set you free." (Mathew 8:31-32)
Sadly, the majority will not practice the truth. The Apostle Paul prophesied that some "religious" people would seek teachers to preach what they want to hear, rather than the truth of the Bible. The Apostle Paul exhorted the young evangelist Timothy: "Preach the word! Be ready in season and out of season. Convince, rebuke, exhort, with all longsuffering and teaching. For the time will come when they will not endure sound doctrine, but according to their own desires, because they have itching ears, they will heap up for themselves teachers; and they will turn their ears away from the truth, and be turned aside to fables" (2 Timothy 4:2–4).
Deception 2: Lust
The Apostle Paul warned married couples not to deprive one another from sexual relations. Otherwise, Satan could take advantage of our carnal nature. "Do not deprive one another except with consent for a time, that you may give yourselves to fasting and prayer; and come together again so that Satan does not tempt you because of your lack of self-control" (1 Corinthians 7:5).
In our modern age, sexual temptations are all around us. So, the Apostle Paul advised those who might lack self-control, "Nevertheless, because of sexual immorality, let each man have his own wife, and let each woman have her own husband" (1 Corinthians 7:2).
Deception 3: Pride, Vanity and Arrogance
Selfishness and egotism are part and parcel of human nature. We like to feel important. That desire can lead to deception. The Apostle Paul instructed Timothy concerning the ordination of a bishop, or an overseer. He wrote that such a candidate should be "not a novice, lest being puffed up with pride he fall into the same condemnation as the devil. Moreover he must have a good testimony among those who are outside, lest he fall into reproach and the snare of the devil" (1 Timothy 3:6–7).
Deception 4: Lying
There is a classic example of lying in the New Testament. Members of the early Christian Church donated property and funds to help fellow Christians. However, one individual named Ananias, committed fraud. He claimed to have given all of the proceeds to the Church, but held back some of the funds. He lied to the Apostle Peter. We read: "But a certain man named Ananias, with Sapphira his wife, sold a possession. And he kept back part of the proceeds, his wife also being aware of it, and brought a certain part and laid it at the apostles' feet. But Peter said, 'Ananias, why has Satan filled your heart to lie to the Holy Spirit and keep back part of the price of the land for yourself? While it remained, was it not your own? And after it was sold, was it not in your own control? Why have you conceived this thing in your heart? You have not lied to men but to God.' Then Ananias, hearing these words, fell down and breathed his last. So great fear came upon all those who heard these things" (Acts 5:1–5).
Sapphira came to Peter later. She lied, and she experienced the same judgment as her husband. She died on the spot! We need to understand. Satan is the father of lies, as it states in John 8:44. So, examine yourself. Monitor your communications. Do you shade the truth? Or, do you simply lie? Do not let Satan take advantage of you, as he did with Ananias and Sapphira. Remember the ninth commandment states: "You shall not bear false witness against your neighbor" (Exodus 20:16). And we must also realize that we can live a lie. Too many professing Christians are doing just that! As Scripture warns us, "He who says, 'I know Him,' and does not keep His commandments, is a liar, and the truth is not in him" (1 John 2:4).
Deception 5: False Dreams, Visions and "Miracles"
Satan will use dreams, visions and "miracles" to deceive people. The book of Revelation describes the great false prophet who will soon rise on the world scene. Be sure to read this in your own Bible. "Then I saw another beast coming up out of the earth, and he had two horns like a lamb [a counterfeit of Christ] and spoke like a dragon. And he exercises all the authority of the first beast in his presence, and causes the earth and those who dwell in it to worship the first beast, whose deadly wound was healed. He performs great signs, so that he even makes fire come down from heaven on the earth in the sight of men. And he deceives those who dwell on the earth by those signs which he was granted to do in the sight of the beast, telling those who dwell on the earth to make an image to the beast who was wounded by the sword and lived" (Revelation 13:11–14).
Deception 6: Bitterness
If we are not careful to watch our feelings, we can become bitter. Perhaps someone offends us. Then the hurt feeling turns into a grudge. Then we start thinking about revenge. If such feelings are nursed and encouraged, they can turn into hate. Then, that hate can turn into bitterness. Christians need to identify and overcome any feelings of hate and bitterness. Notice this instruction: "Pursue peace with all people, and holiness, without which no one will see the Lord: looking diligently lest anyone fall short of the grace of God; lest any root of bitterness springing up cause trouble, and by this many become defiled" (Hebrews 12:14–15).
Deception 7: Lack of Faith
When Satan attacked him, the patriarch Job remained faithful to God—and learned vital spiritual lessons. At one point, Job said: "For the thing I greatly feared has come upon me, and what I dreaded has happened to me" (Job 3:25). In our modern language, we might call Job's experience a "self-fulfilling prophecy."
As Christians, we must face our fears with faith, and must pray for God's protection and intervention. When we study the Bible, and we believe God's promises, He gives us faith. Scripture reminds us, "So then faith comes by hearing, and hearing by the word of God" (Romans 10:17).
Remedy
In every prayer I request Heavenly Father to not let satan, his angels, false teachers and preachers deceive me. I request to become Him to become a shade at my right hand and to give me understanding of His word.
God bless you all
Last edited by Waqar Daniel on Wed 26 Feb 2014, 4:17 pm; edited 1 time in total
_________________
Grace to you and peace from God our Father and the LORD Jesus Christ. (Philemon 1:3)
In a time when people are starting to say satan does not exist it is important to know the truth.

clark thompson

Christian Talk Member




Mood

:






Number of posts

: 143


Age

: 35


Location

: TN


Marital Status

: Still Looking


Registration date :

2013-05-14


Points :

16166


Reputation :

0


Country

:



Warning

:



Very true
Thanks for this.
In agreement. God bless you
_________________
Grace to you and peace from God our Father and the LORD Jesus Christ. (Philemon 1:3)
---
Permissions in this forum:
You
cannot
reply to topics in this forum